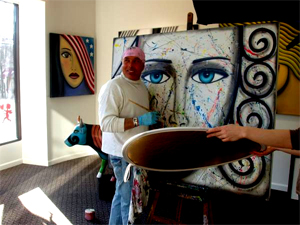 New York Artist, Michael Perez, has quickly become one of the hottest Modern Pop artists today. Always on the cutting edge, his art is extremely dynamic and is distinguished by his use of contrasting colors and shapes. His innovative artwork is most immediately recognized by his distinctive unique faces, flowers and figures.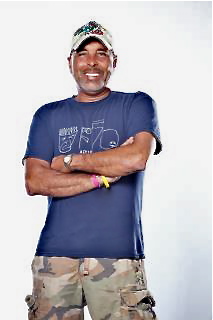 Michael was born and raised in New York City. While attending school, which included the High School of Art and Design in Manhattan, Parsons School of Design and Pratt Institute, he sold his paintings on the streets of Greenwich Village. After college, Michael worked in the advertising industry, but continued to pursue his true passion… painting. In the mid-1990's he moved his art studio to the east end of Long Island, to the town of Southampton. Perez then also opened his own gallery to showcase his art. This affords Michael the opportunity to personally meet and interact with his clients and admirers. "People are free in the Hamptons," explains Perez. "They are away from all the hustle and bustle, playing and enjoying life." The Hamptons proved to be so successful for Michael, that he once again decided to take a risk and open another gallery location in TriBeCa & Chelsea, New York City. As a native New Yorker, Michael feels that he must do his part in keeping New York City a cultural mecca for the arts, so he chose TriBeCa & Chelsea to help participate in the re-growth of lower Manhattan. "In life you can't stay stagnant… you have to keep going forward and fulfilling your dreams… or at least try. For me personally, I need this constant challenge, it keeps me creative and determined to succeed", says Michael. "Nobody hands you anything in life. You have to look out for yourself and make things happen…take the initiative. If you succeed, that's great, if it fails at least you know you gave it your all, and you'll never have to wonder… what if". After an extremely successful 5 years in Manhattan, Michael has decided to get back to basics and concentrate on his painting again full time. Keeping only his original Southampton gallery, he now has more time to focus on his art again with 100% pure creative energy.
In addition to developing a huge art following, Michael has been interviewed for many magazines and his artwork has been showcased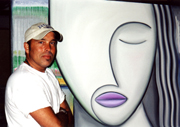 in Distinction Magazine, Hamptons Magazine, House Magazine, Art Business News, Hispanic Business Magazine and has had numerous front covers of the Long Island weekly newspaper Dan's Paper's. Michael's success in the art world has helped gain him local and national exposure. He has appeared on NBC's "Weekend Today Show", the largest national Spanish TV network "Univision", "News 12" stations throughout the tri-state area, given interviews on Bloomberg Radio and WWRU Radio and numerous newspapers have written about him, including Newsday, The Daily News, New York Times, The New York Post, TriBeCa Tribune, East Hampton Star and Southampton Press. He has been photographed by David McCabe, known for photographing Andy Warhol in the 1960's, Kevin Mazer, one of the worlds top celebrity photographers & Patrick McMullan, one of New Yorks top celebrity photographers. His galleries were used for the NBC reality show "I Want To Be a Hilton" and "Law & Order". Michael's art also became part of the set displays for primetime television shows including "Sabrina, The Teenage Witch", "Friends", "Melrose Place" and in the feature film "Fifteen Minutes".
For the anniversary of September 11th, Michael was asked by The Southampton Independent newspaper for permission to use his painting "America The Beautiful" on their cover. This special painting was painted live on a news broadcast of News12 Long Island a month after the tragedy. The painting shows a womans face with the reflection of the World Trade Center in her eye, with a tear on her face. Her hair was red and white, symbolizing the American Flag. It was the first time in the history of The Southampton Independent ever putting an artists works on their cover. This special anniversary issue sparked the highest circulation the newspaper had ever seen. Many people bought numerous copies to frame and save as collectors editions.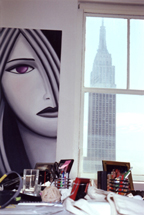 Michael currently volunteers his time and talent, by giving presentations and art workshops to elementary through high school students. He talks to them about his art, what inspires him and helps them connect with their own creative side.
He has also donated his art for many important charities including The September 11th Fund, Cystic Fibrosis Foundation, Muscular Dystrophy Association, Retts Syndrome and The Make A Wish Foundation. The Long Island Hispanic Community honored Michael as the Hispanic Artist of the Year and the Long Island Town of Hempstead twice honored him with Proclamations for his contribution to Long Island Arts Culture.
Michael Perez' artwork can be seen throughout the United States, Canada, Australia, Israel and Europe.
To see Michael Perez' complete resume in PDF format, the FREE Adobe Acrobat Reader needs to be installed. If you do not have it, please click here.